The SCADA Story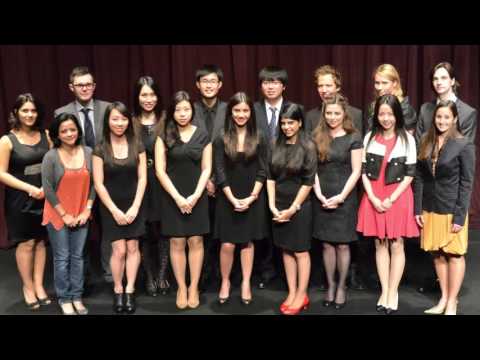 Welcome to SCADA! The Student Clinician Research Program of the ADA is comprised of a select and elite group of dentists who participated in the Student Clinician Research Program at their individual schools and their country's national program. This program was first presented in 1959 at the centennial session of the ADA in New York City as a joint venture between then DENTSPLY International and the American Dental Association. Dr. Harold Hillenbrand, then Executive Director of the ADA and Mr. Henry M. Thornton, then President of DENTSPLY International initiated the first program. Since its inception, the program has expanded to cover 39 countries and has over 7,000 student participants.
The ADA hosts a SCADA program at each annual meeting as a popular feature of the scientific session. Students are selected to compete and present their work by their individual schools. Dentsply Sirona is proud to serve as the sponsor of this program by funding all program-related awards and expenses. They also sponsor an orientation seminar for student clinicians on the evening preceding the judging and host a reception and dinner to honor the participants on the evening of the judging.
The first CDA/Dentsply Sirona Student Clinician Research Program took place in 1971 as a joint venture between the Canadian Dental Association (CDA) and then DENTSPLY Canada to bring this program to dental students across Canada. All 10 Canadian dental schools are invited to take part in this annual event. This program is founded on being helpful in stimulating interest on the part of the dental students and educators in the fields of dental research and dental science.
Each year the deans of the 10 accredited dental schools in Canada are invited to select a student to participate in the CDA/Dentsply Sirona Student Clinician Research Program. This individual is required to be an undergraduate at the time of selection, and will represent their school by providing a presentation of their table clinic in one of two categories – "Clinical Application and Techniques' or 'Basic Science and Research' before a panel of qualified judges. Following the judging sessions, Dentsply Sirona and the CDA hold a reception to honor the achievements of all participating student clinicians, and to announce the judge's decision on who will obtain the First and Second place Awards.
All students who participate in the CDA/Dentsply Sirona Student Clinician Research Program become members of the Alumni Association - the International Association of Student Clinicians - American Dental Association (SCADA).
Welcome to Toronto!
The most populous city in Canada, & the provincial capital of Ontario! Toronto is the fifth largest city in North America (according to the 2011 census with a population of 2,615,060) after Mexico City, New York City and Los Angeles.
Toronto sits on the northwestern shore of Lake Ontario, with a skyline that is recognizable globally with the CN Tower prominently in view.
Rich in culture, Toronto is home to the National Ballet of Canada, The Canadian Opera Company as well as the Toronto Symphony Orchestra and others who regularly perform at some of the most impressive Theaters, Halls and Centre's for the Arts regularly.
Toronto is represented in 6 major league sports & Home to the Toronto Maple Leafs, The Toronto Blue Jays, Toronto Raptors, Toronto Argonauts, Toronto Rock Lacrosse team and Major League Soccer. Games can be seen at the Rogers Centre or BMO Fields. In addition to sports, many celebrities can be seen performing at the Air Canada Centre.
While in Toronto you will want to visit the Toronto Zoo, Home to over 5000 animals; or see what exhibit is showing at the Art Gallery of Ontario (AGO) or at the Royal Ontario Museum, or Ontario Science Centre.
With riches in culture, food and festivals, there is always something to see and do in Toronto!
Ontario Dental Association 2017 Social Event
In Celebration of Canada turning 150 years in 2017, The ASM and Ontario Dental Association (ODA) will also be celebrating 150 years! Marking this Anniversary, the ODA will be holding a Thursday evening event!
Each designated Student Clinician will be receiving a ticket to attend this BIG Event from Dentsply Sirona. Additional student clinicians who wish to attend, may purchase tickets
Agenda
May 3, 2017

May 4, 2017

May 5, 2017
Welcome to Toronto! Check in at your Accommodation Hotel - During the afternoon, Students will be setting up their table clinics directly on the exhibit floor so they can welcome visitors to share in their research during the exhibit hours
During the morning session of the exhibit, each student clinicians will be engaged with the judges as they individually present their research.

Table Clinics Open After Lunch

Each student clinician will be sharing their research and answering any questions from the general public.

Student Clinicians will depart from the exhibit floor so they may attend the ASM Cocktail Reception. We look forward to seeing you at this exciting event as we help celebrate the ASM and ODA's 150th Anniversary!
Students will present their research to the general public - there will also be time to explore the exhibit floor and visit the various vendors and booths.

All student clinicians will be attending a joint CDA/Dentsply Sirona and Pierre Fauchard Academy Awards Luncheon where the 1st and 2nd place awards will be announced and presented. **please note that attendance for this event is by invitation only. If you would like to attend and you are NOT a PFA member, please contact Cynthia MacDonald at Cynthia.MacDonald@dentsplysirona.com**

Students will return once again to present their exhibits. This is the last time for presentation and for the public to see who took this year's 1st and 2nd place awards.
Cynthia MacDonald
of Dentsply Sirona for information regarding current year travel, accommodations and the awards program.
Monique Bouchard
of the CDA for questions regarding registration, faculty requirements and general program inquiries.
Cynthia MacDonald
Professional Services Coordinator
Dentsply Sirona
Canada
161 Vinyl Court
Woodbridge, ON